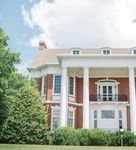 Christ Episcopal Church Parish House, located at 311 East Church Street, is a handsome Georgian four columned red brick house. The present structure, dating from 1920, was designated a Virginia Historic Landmark and placed on the National Register of Historic Places in 1997.
The original home on this site was constructed in 1905 by Col. Benjamin F. Stevens, a former president of Liggett and Myers Tobacco Company. It sat on ten and half acres of land and also included a garage. His daughter and her husband, Col. Pannill Rucker, lived in the home until it was destroyed by fire in 1917. Col. Rucker began rebuilding the house as a two story structure, using the four walls of the original house left standing after the fire.
In 1920, Rives S. Brown purchased the house and 12 lots for $50,550 and completed the rebuilding. Mr. and Mrs. Brown and their son, Rives Spotswood Brown, Jr., lived in the house until it was sold to William Letcher Pannill, founder of Pannill Knitting, in 1933. Mr. and Mrs. Pannill and their seven children moved into the house and renamed it Scuffle Hill because it was located on a hill and he had to "scuffle up the money" to pay for it. Mr. Pannill died in 1940 and Mrs. Pannill remained in the home until its sale to Christ Episcopal Church in 1959, at which time she moved into the remodeled former garage. The home was then reconfigured for use as a Sunday School Center, church office and site for social functions. Many lovely furniture pieces have been donated by church members and former residents of the home.
The Parish house offers a modest kitchen, lovely dining room, paneled library, parlor, and exquisite entry foyer. It is perfect for hosting meetings and special events and offers a beautiful setting for portraits. The Parish House may be rented.