The Parish Life Committee is charged with the responsibility of encouraging fellowship and activities within the church family by sponsoring a variety of events throughout the year geared toward bringing our parish family closer together.
The Dan Prince and Gene Medley Memorial Oyster Roast
A festive annual event hosted by CEC's vestry and the Parish Life Committee that features gourmet foods, roasted oysters, a raffle, music and other fun activities. This fund raising event is popular not only with our parishioners, but also is widely attended by friends and family from the community.
Easter Breakfast
Held Easter morning between early and later services giving the entire congregation an opportunity to celebrate the risen Lord together. An egg hunt follows the later service.
Blessing of the Animals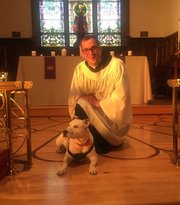 On the Sunday closest to the Feast of St. Francis, Christ Church invites critters of all sorts to gather for the annual Blessing of the Animals. With the help of the youth our pets come to the Gathering Place behind the church to receive a blessing and a St. Frances medal.
Progressive Dinner
The church routinely organizes progressive dinners which held at the homes of church members. The evening begins at one home for appetizers and cocktails progressing to another residence for dinner and concludes with coffee and dessert.
Church Beautification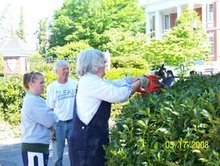 Periodically, under the direction of the Junior Warden, members of our parish mobilize to spruce up the grounds of our campus. All ages are encouraged to participate.
Summer Picnic
Each summer the congregation gathers together for recreation and fellowship with an annual picnic organized by the Parish Life Committee. In the past, the parish life committee has hosted pool parties as well as a day of canoeing and kayaking on the Smith River concluding with a barbeque dinner with games and music.