The reason for being of Christ Church is to worship together and to share the communion at the Lord's table. While traditional Anglican Eucharist is the norm, we are not afraid to celebrate contemporary services on a regular basis. Because the Episcopal liturgy invites participation in the service by the corporate body of worshipers our church offers many ways the membership can serve.
Acolytes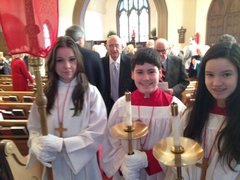 Every boy and girl raised in the Episcopal church and accepting the role of an acolyte will forever cherish those days spent at the altar in service to the priest and congregation. From the youngest torch bearers to experienced crucifers assisting the preparation of the table our beautiful liturgy could not be presented without these young parishioners. We cherish their service and encourage their participation.
Altar Guild
No Episcopal church could even begin to function without the always reliable altar guild. This group of mostly women of the church set the altar, provide and arrange the flowers, maintain the sacraments and sacristy and are always on the job whether for regular or special services, weddings, funerals and whatever occasion may need their help. The group perpetuates itself by encouraging and teaching young congregants through the junior altar guild. Our total of 32 dedicated ladies and junior members are divided into 5 teams and they give generously of their time and talents. Won't you please join us in this wonderful ministry of service to the church?
Chalice Bearers
For those men and women who choose to train to serve as lay worship leaders at the altar, Christ Church offers the opportunity to assist the priest by serving the cup at the Eucharist. This is one of the most honored and rewarding areas of lay ministry.
Lay Readers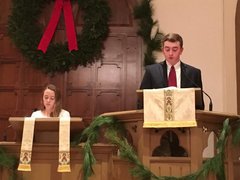 An important role in each service held in our church is provided by members of the congregation who participate by reading lessons, psalms and leading prayers. These true lay readers, from teenagers to seniors, are welcomed as an integral part of our worship.
Ushers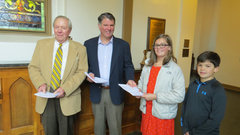 Without the ever faithful group of men who serve as ushers at all of our services the seamless coordination of the various components of the worship participants would not be possible, They serve as the face of the church by greeting churchgoers as they arrive; assist those who may need help; receive the collection at the offering and then oversee the cleanup and closing of the building at the end of the day. Those who participate find it rewarding.
Worship Committee
The Worship Committee is currently represented by members from differing walks of life. They include Hank Long, Natalie Coleman, Andy Williwms, Raul West, Lynn Gerdners, Rebecca Moore, Heather Gallop, Ed Gallop, John Sweezey, Phil Gardner, Carol Deaton, and Page Beeler. They meet via Zoom during these most difficult times of pandemic, and have no set schedule at this time.