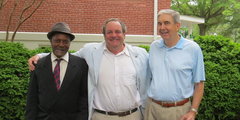 The traditional style of worship is extremely important to our parish. We cherish and revere a mix of Rite I and II, with an emphasis on Holy Communion and succinct, cogent sermons that bring the Gospel to our daily lives.
Our schedule of services is consistent year round with celebration of Rite I at the 8:00 Eucharist and celebration of Rite II at the 10:30 Eucharist. A dynamic music program is instrumental in our church services and is a part of both the 8:00 and 10:30 services.

One Sunday every quarter, we celebrate the 10:30am Holy Eucharist with contemporary music in a relaxed setting. Families unfamiliar with the traditional Anglican liturgy may find this service a more comfortable worship style.

Christian education features prominently in our community with Sunday School programs available for both children and adults. All Sunday School programs meet in our Parish House which is located immediately beside the church.
Our community enjoys fellowship, and all members and visitors are encouraged to attend breakfast and enjoy coffee in the Parish House between the 8:00 service and the commencement of Sunday School programs.
All visitors and members are greeted prior to each service by ushers and service bulletins are available to enable all to follow the order of service. The service bulletin will direct you to readings from the Book of Common Prayer (red book) and to hymns from The Hymnal 1982 (blue book) and Wonder, Love, and Praise (green book). It also summarizes upcoming events and activities in the life of our church.
Our congregation is friendly and open, and visitors are encouraged to seek assistance from church members should they need guidance at any time during the service.